Coworking for Entrepreneurs: 12 Benefits
Especially in the Isolation of a Pandemic
Introduction
Coworking for Entrepreneurs: Startups are booming. According to the US Census Bureau, 2020 Quarter 3 has shown a phenomenal growth over the second quarter—a 77% increase in business applications. In other words, the number new startups is accelerating fast during the Pandemic.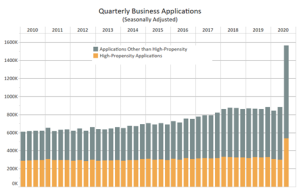 High-Propensity Applications are those that have a high propensity of turning into businesses with payroll.
At the same time, it looks as though the rate of working-from-home is growing fast, too. "Our best estimate is that 25-30% of the workforce will be working from home multiple days a week by the end of 2021", says Kate Lister, President of Global Workplace Analytics.
Coworking for entrepreneurs remains super valuable during the Covid 19 Pandemic. The market for coworking spaces has been negatively affected, of course. For example, The Riveter, which had nine sites pre-Covid, has closed them all. It is now entirely an online operation. The Seattle-based startup had set out to build a national network of women-oriented coworking spaces. Many others are struggling to adapt to the new situation. Nonetheless, in the increased isolation of pandemic conditions, entrepreneurs need support, both practical and emotional—more than ever.
Adapting and pivoting is part of almost every successful entrepreneur's life. For operators of coworking spaces, the need to do it has been sudden and extreme. However, the basic concept remains entirely viable and valuable for new ventures. Naturally, the physical environment has to be healthy and safe. "Coworking spaces will increasingly be defined in terms of the quality and health of the environment," says Bill Kerr, a Harvard Business School Professor. Of course, this is true of all offices and workspaces—even at home. Coworking Megatrends for 2021 by Liz Elam, founder of GCUC, the trade body for coworking worldwide, will give you a good perspective on the future of coworking.
12 reasons entrepreneurs consider safe coworking for successful startup
For the creators of new ventures, the availability of coworking space provides a strong support to the tough and sometimes lonely road to startup. Many consider that the coworking spaces market is significantly determined by the increase in the number of startups. Although the global market for coworking spaces is expected to decline in 2020, the growth of startups and the eventual waning of the Pandemic suggest that the market will recover from 2021/2 onwards.
Coworking For Entrepreneurs—Even in Difficult Conditions
Benefit from interaction with other people. It can get lonely if you are working at home trying to create a new enterprise. Being online and on the phone may help, but all the non-verbal signals we get are missing when we're at a distance. Even wearing a mask, we can still use our 'sixth' sense (or proprioception). In a coworking space you can get that spontaneously.
Acknowledge what you don't know. If you are open to learning, the informal contacts at a coworking space will give you the opportunity to learn without really trying. 'Know it all' entrepreneurs frequently don't survive in business.
Get immediate feedback. People may tell you the most important activity for the newbie entrepreneur is writing a business plan. That's not the case in my experience. Top of the list is feedback—both formal and informal. Formal feedback will occur when you make a presentation, or ask the bank for a loan. Informal feedback will include comments on overheard statements, or reactions to observed behaviors.
Find expertise. Coworking for entrepreneurs has the benefit of there being others in the space who may have skills that you lack, and be able to offer advice or information—even at a 6-foot distance. Chances are high that staff or other members of the coworking space will have good contacts to get you help without hiring.
Use additional facilities or equipment. At the beginning of a new business, you may have need for facilities or equipment that are not worth you investing in because they are used only occasionally. What I am thinking about are the kinds of things that you might find at a UPS store, like a fax machine, or or a business address mail box. Some spaces may even have 3-D printers or other sophisticated stuff. Others may have professional services like bookkeepers as tennants.
Add contacts and networking. Even in the pandemic environment, coworking for entrepreneurs involves a certain flow of business people and other aspiring entrepreneurs through the space. They represent a 'resource' of sorts that are focused on many of the subjects that are important to you, and with whom you'd be unlikely to connect sitting a desk in your bedroom at home.
Escape from distractions, interruptions... and cabin fever There a few people who either have been working from home for a long time, or are highly disciplined and have no pets or kids at home. However, most of us are easily distracted from our train of thought, with all the other things around the house.
Stumble on spontaneous ideas. Serendipity often results in startup pivots. Ideas seem to come out of nowhere. Other people's skills and behaviors suddenly seem to have something to inspire or offer directly to startups. Coworking for entrepreneurs does not promote the idea of the unexpected. Startups can suddenly encounter the 'missing ingredient'.
Avoid Zoom fatigue. It's true that Zoom and similar distance audio-visual offerings received a huge increase in usage from the beginning of the Pandemic, but there is growing Zoom 'fatigue'. The lengthy use of the small laptop screen is tiring, when it is used both for meetings and personal work. Coworking spaces generally make use of desktops and bigger screens. Audio-visual communication can still be carried out at home.
Replace isolation and loneliness. Spending whole days working at home can induce a sense of isolation; it's lonely, too. We are social animals and even if we are not the extravert gregarious type, tending towards introversion, we still need community.
Change location to break between home and work. The normal pattern of 'going to work and coming home' makes a break between the two parts of your life, so that you can make the most of each.
Grow the startup without early overspending. Too many early-stage businesses face a cash problem. If you start in a coworking space, or use the coworking space for part of the week or for meetings, you can grow within your means. By working where there are others, rather than the kitchen table, you may find unexpected help, without recruiting staff. Staff need regular payment. Although coworking spaces have to be paid for, there are normally special rates for limited or occasional use.
If you have not already visited, take a look at the Coworking Directory—USA