Startup Storyboarding
Get Your New Venture's Message Across Effectively
Startup Storyboarding—what is that?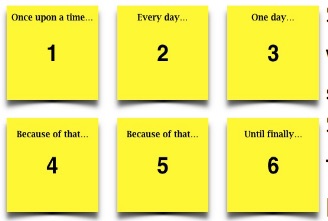 Why would a startup want to use the storyboard technique? And for what? Surely that is just for film producers.
Telling stories is one of the most persuasive ways that startups can get their message across-to customers, investors, bankers, partners.
In my eBook, Founders Are Storytellers, I describe the use of startup storyboarding to put together a plot for your startup. A storyboard is a graphic organizer that provides the viewer with a high-level view of a project. It turns your ideas into a logical and convincing sequence.
Startup storyboarding is a technique that does indeed come from the cinema industry, but it also helps to put together your business startup story in a convincing way. In the startup storyboarding used below, I use the example of one of my own startups that never finally saw the light of day, but it will show you the process of storytelling, as perfected by Pixar. This startup storyboarding does not use images, but is based on a simple story, and it goes like this:
Example of Startup Storyboarding
Once upon a time

there was no way of forecasting the propensity of a person to later contract Alzheimer's, or the suffering involved.

Every day

individuals and their families were devastated and impoverished by the consequences of a disease that currently has no cure.

One day

an ophthalmologist saw misfolded proteins in some eyes—the body's only transparent organ—indicating inflammation.

Because of that

and the correlation with inflammation undetected elsewhere in the body, he confirmed it with blood work and other tests.

Because of that

he suggested changes in diet & behavior to reduce inflammation to avoid the worst effects of potential neuro-degenerative diseases, like Alzheimer's.

Until finally

early detection of the risk of such diseases occurring later, and their treatment could reduce much family misery and millions of dollars in cost.
Verbal Startup Storyboarding
I use a verbal startup storyboard in this manner because my drawing skills are pretty limited, but if you're an artist, of course, you should use images. Even though I used words, I hope they conveyed graphic images. If you use a storyboard either way, you get straight to heart of the matter. You may even find that doing startup storyboarding before settling down to writing your business plan would help guide you make the business plan very convincing. Here's a storyboard I created using Haiku Deck.
Startup storyboarding might be considered a secret weapon, because most startups struggle to get their story across and this technique helps them get to the crux of what they want to tell much faster than lengthy presentations. It can be done inexpensively and helps a team organize their pitch effectively, as well as having fun while they do it. It's not a technique taught in business schools or in wide use just now.
On the other hand, the content marketing professionals are using it in their work, often at high cost to the client. You can use it on a do-it-do-it-yourself basis, providing you use the kind of discipline I suggest above. And, in the process you may have a lot of fun.
So, don't hesitate to splurge and read my eBook—Founders Are Storytellers.