Purposeful Startup
Dazz—Bubbles with Intent
Purposeful Startup: David Shahan, is the founder of SunState Laboratories, based in Broomfield, Colorado, having previously worked with Jani-King, a company with 9,000 franchisees offering commercial cleaning services. His experience led him to create his purposeful startup in the cleaning business. It has purpose built into its DNA.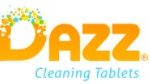 The company produces Dazz, a range of household cleaning products that come in tablet form. The purpose of the company  is to sell products that save the massive mountains of plastic waste generated by the traditional way of buying cleaning products—in a plastic spray bottle, which is thrown away, when the contents are finished. The main content is of the spray bottle is water.
In his previous job, David was appalled at the amount of plastic waste that resulted from his work. The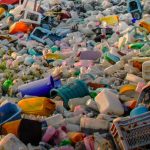 cleaner bottles were often not recycled and either ended up in landfills or accumulating in heaps, or worse, floating in the oceans. He considered that there must be a better way for manufacturers to distribute cleaners to users. He determined to startup with purpose to contribute to the planet's sustainability.
A Better Way to Sell Cleaning Products
He started to think about 'the better way' that must exist. His entrepreneurial dream was that it must be possible to use a dehydrated version of the contents and sell it separately in small packets. Hey presto, that would cut a huge amount of plastic waste. Other benefits would flow from such an offer.
David told me, "I also noticed a very interesting dilemma; the same plastic bottles causing the trash issue, were also keeping sales of household cleaners relegated to brick-and-mortar retail. Their heavy weight and issues with leaking made direct-to-consumer sales challenging."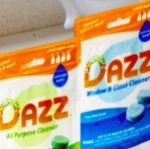 The cost of production would be much lower than for the spray bottle-based cleaner competitors: no plastic bottle, no water, a fraction of the distribution cost, and less space required for storage by the user, whether industrial or domestic.
David describes the R&D: "Working on the weekends and evenings from the laundry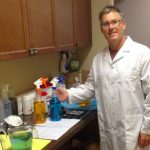 room in our house, I spent almost 9 months formulating, testing, and perfecting our three core products. Using mineral and plant based ingredients, my goal was to create cleaners that were not only safe, but also cleaned well. My final products were independently tested at the TURI Lab at the University of Mass and found to outperform the leading brands in each of our categories." Truly a startup with purpose in its DNA.
Much research and experimentation later, David perfected the process and SunState now makes three Dazz products. The range includes an all-purpose cleaner, one for bathrooms and a third for windows and glass. Now you can buy them direct on line from SunState Laboratories. In the research and development phase is a new EPA registered disinfectant product, but it will likely not be available for a while as the certification process is lengthy.
Dazz, the Purposeful Startup: Capital Funding Bubbles
SunState Laboratories currently makes use of Wefunder, the purpose driven equity crowdfunding platform to raise new capital. So far David has raised over $600K, of his $1m target. If you follow the Wefunder link, and go to SunState Laboratories, you can find a pdf copy of David's pitch deck. Whether you are an investor or not I think you'll find it compelling reading.

As you can tell Wefunder is really working for David. It draws on both members of his own community and Wefunder's own community of over 700,000 investors. Wefunder both assists startup with the process of fundraising, but also regularly updates investors and community members on the purposeful startups who use its platform.
Nick said back in 2012 on the founding of Wefunder, "I don't feel a sense of meaning when I buy a share of IBM—it's purely a financial transaction. But startups? If I could support entrepreneurs trying to change the world, and still have a chance of making a return… well that's value beyond money. I could give back. And that's the key to making crowd investing work: a startup with purpose.
Multinationals Who Buy Purpose Driven Startups
It's interesting (to me, at least) that David's pitch deck suggests the company can operate under B Corporation certification standards—another indication of a purposeful startup. He also aims to have the company acquired by a multinational in 3-5 years. The plastic waste pollution is clearly an international issue of recognized importance. On February 26, 2020, Earth Island Institute, which publishes Earth Island Journal, has filed a first-of-its-kind lawsuit against ten companies—including giants like Coca-Cola, PepsiCo, and Nestlé—for their contribution to the plastic pollution crisis.
Multinationals, like the ones that David targets in the cleaning products sector to acquire SunState Labs,

are surely going to resist any legal actions, but will also be scurrying to strategize for the future elimination of plastic waste. Many of the companies have acquired purposeful startups in the sustainable consumer products business field. Think Colgate and Tom's of Maine, or Coca-Cola and Honest Tea. They are just two examples. In both cases, the buyers have sought to maintain the sustainable purpose of the acquired company, within the multinational context.