Company and Community
Wise enterprises invest in their communities
Company and Community: The business and community surrounding it are in a symbiotic relationship, whether desired or ignored. At the negative end of the spectrum, the inter-relation is easily observed when a dominant employer or industry closes down.
Wise enterprises invest in their communities. A vibrant and resilient community will in turn support the business, and make the whole system stronger. 
Business investment in the community takes many forms. There is a logic of both public interest and self interest in a company giving back to the community in money and time. There is a growing importance of strong communities, where mutual responsibility can result in a resilient commonwealth, or common wealth.
In our dislocated society where government shows poor leadership, especially in the social and communal fields, business has the responsibility to contribute to a flourishing world around it. Creating value only for owners leads to a progressive deterioration of opportunity and wellbeing for all.
Profitable Partnerships1: a Report on Business Investment in the Community was a book published over thirty years ago in Britain. It might seem irrelevant to the present day United States. Though when I caught sight of the book on my shelves, I thought it offered helpful insights of perennial relevance.
In the case study below, the author, Michael Fogarty describes how my own company played its role in community investment. As I thought about company and community at the dawn of 2020 in the US, the book to which he contributed the story, suddenly seemed to be worth reproducing now.
CASE STUDY:
Values Based Community Policy
"Mosaic Management Consulting Group: Mosaic is a management and organizational development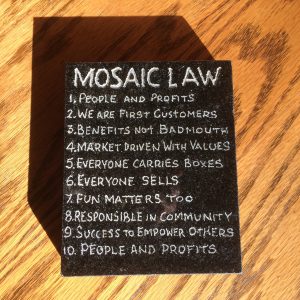 consultancy founded in 1981 and established in Bristol (England) in 1986. The company's business is about cultural change within organizations and includes promoting a 'values' approach among managers and staff in its client firms. It applies the same approach to itself ('we are our own first customers'): the company has not only defined its own values, but at the outset; literally inscribed them on tablets of stone. Now after several years this set of corporate principles is in the process of being refined.
Small Company: 10% of Pre-tax Profits
The company has 30 staff, a turnover in its last year of £2.1 million2 and pre-tax profits of £200,000, and is expanding rapidly. It contributes ten percent of pre-tax profits to the community, an arbitrary figure but 'big enough to make a difference', whereas the Per Cent Club's standard of half of one percent is regarded as 'not real'. Like many other small firms, Mosaic has found it a complicated business to give money away, but a chance meeting with the director of Greater Bristol Trust3 led to a good working arrangement. Eight percent is covenanted through GBT on the basis that half this money goes to GBT's endowment, and is building within it a 'named fund' in the company's name, and the rest to projects proposed by GBT as within Mosaic's criteria: the company makes the final choice. Without GBT, it was pointed out, the company could not investigate the projects properly, and even with GBT 'it is difficult'. The other two percent is used for projects outside GBT's remit but of personal concern to staff and within their personal knowledge.
The company also allows five percent of work time to be used for community activities. This not compulsory, though in fact most join in, and the way that time is used is at staff members' own discretion: but on the understanding that time taken is 'a proper part of the job' and must be used effectively, accounted for, and included in staff assessment. Staff members' use of community time is, incidentally, a way in which the company follows the progress of its projects.
Staff Involvement and Commitment
Donations are decided and their progress logged, and use of community time accounted for, through a staff committee of five with a part time secretary and the company chairman is in the chair, meeting quarterly: but staff members can attend quarterly meetings, and can put forward proposals for projects provided that they are in writing and for a specific amount. Once a project is agreed, members of staff who express an interest visit the body in question to find out more about the nature of the venture. In some cases this has led to a wish on the part of employees to help on a voluntary basis with the organization concerned. The collective nature of employees' involvement should be underlined.
There is a list of positive and negative criteria: a positive preference for local causes, those with staff involvement or connected to the company's work, and those where a grant has 'leverage':negative rules against party politics, direct action, 'not true to our values', profit-making activities, and causes which cannot attract other support. Appeals which arise out of cuts in government funding for public services may also be rejected.
Feeling of Personal Responsibility in the Community
The chief reason given for Mosaic's policy was a 'feeling of personal responsibility in the community' and the wish to put something back, but there is also at least one clear element of enlightened self-interest. In this company it is not public relations, for the company is not 'in it for the publicity', though it may occasionally and accidentally get it or be developing what was called a 'hidden image': but it does have to do with the relation between performance and employees' morale and motivation. The first and last item on Mosaic's tablets of stone is that 'people and profits are of equal importance in our business' and the company's policies on community work and donations are part of a package which makes Mosaic an attractive place to work.
The ten percent standard has been discussed and approved by the staff as a whole, even though it implies a cost for ordinary staff members as well as major shareholders. Commitment to support on this scale, a member of the clerical staff said, is one of the things which attracts many of us to work here. Collective involvement and personal opportunity within the company's contribution policy help to bring the staff together, along with other features of the company's policy like its special version of single status, 'everyone carries boxes', meaning that the too helps in carrying the paraphernalia of presentations around; and 'fun matters too', a half day a month for a staff meeting sometimes followed by sports and other social activities.
People and Profits—Profits and People
At the end of the day, as the tablets of stone say, 'everyone sells'. Profits count equally as people, and profitability makes generosity possible, but the company's community investment policy, through its effects on employee morale, is in turn one of the elements which underpin profitability.
Mosaic's directors are involved with local networks, like the Chamber of Commerce or the Regional Council of the CBI4, and part of Mosaic's own business is to promote a 'values' approach among managers in its large network of client companies. These contacts have not so farbeen used to propagate the Mosaic message on community involvement, and there was some hesitation about how far to go in that direction. There could, it was said, be a danger of the preacher standing in the way of the message, and of doing good leading to be seen as a 'do-gooder'. Perhaps, it was suggested, the business schools should give a lead there. However, the possibility of moving quietly in that direction is on the company's agenda.
Applying the Mosaic Model
Mosaic is clearly exceptional in many ways. Developing managers' perception of values happens to be its business, and it is not surprising that its perception of its own values is unusually explicit and coherent. Its level of community contribution, in terms of proportion of pre-tax profits, would for most other companies in Britain (though less so in America) be astonishing. Nevertheless, its experience serves to emphasize the fact that an enlightened approach to community investment and participation in policy development by staff is wholly compatible with good business sense: the benefits in terms of employee motivation and recruitment are evident.
The level of community contributions achieved is remarkable, but underlines the scope that exists for many other firms, including small ones, to raise their percentage contributions. Finally the existence of a coherent policy on community investment, which brings in all employees and forges a close and mutually beneficial link with a community agency, allows effective targeting of resources and informal monitoring of progress."
Startups and Private Companies Can Take the Lead
Most startups have no public shareholders, and therefore can freely satisfy a broader range of stakeholders, including obviously, the local community. However the rules are changing. New corporate forms make it easier for business to play a wider role in society, and not hide behind its perceived single purpose of satisfying the owners of the company, by increasing shareholder value.
There is a growing movement for business purpose, beyond the widely-held assumption that a company may only be responsible to shareholders. The Benefit Corporation, for instance, is a fast growing legal structure available in most States, that are required to consider/balance the impact of their decisions not only on shareholders but also on their stakeholders.
Millennials and Traditionalists Have an Impact
According to the Deloitte's Survey of Millennials in 2019, "Millennials' opinions about business continue to diminish, in part due to views that businesses focus solely on their own agendas rather than considering the consequences for society. Fifty-five percent said business has a positive impact on society, down from 61 percent in 2018… In addition, Millennials and Gen Zs, in general, will patronize and support companies that align with their values."
The Deloitte Survey adds, "In addition, Millennials and Gen Zs, in general, will patronize and support companies that align with their values. Younger generations are putting their money where their mouths are when it comes to supporting businesses that make a positive impact on society. Many say they will not hesitate to lessen or end a consumer relationship when they disagree with a company's business practices, values or political leanings."
As a member of the Traditionalists, or Silent Generation (those born before 1945), I support such views and behaviors in general, since we 'war babies' now in our 70s and 80s tend to understand the nobility of sacrifice for the common good and the concept of 'waste not, want not' idea. If you add together the numbers of these two generations in the US, they amount to about 130 million people.
In addition, I observe that since the average age of successful founders is 45, and my generation tends to have


available funds, between us, the oldies and the Millennials are in a mighty strong position to change the world for the better, by acting in favor of the common good.
---
 1. Published by the Policy Studies Institute, London, 1991. ISBN 0 85374 534 X. It is a case study written by the late Michael Fogarty. This may seem dated in 2020, but the message remains valid, not only in the UK, but also the USA and other developed countries. Disclaimer: Will Keyser was the co-founder of Mosaic Management Consulting, with Midi Berry, who led the development of the policies described.
 2. About $4 million is $ US (2020).
 3. Now called the Quartet Community Foundation and over 30 years or so have made grants of more than £50 million.