Marketing for Purpose and Profit
Purpose-driven startups marketing for superordinate goals
Marketing for Purpose and Profit: Most startups focus their marketing plans on survival and growth—for good reason. Founders believe passionately in their product and care for their customers. They work on the 'Four Ps': Product, Price, Place, and Promotion.
However, if their purpose is based on interdependence and meeting the hopes and wants of their stakeholders for a better world, they will most likely fulfill their aspirations more effectively if they recast their marketing strategy to focus on their superordinate goals.
Superordinate Goals: Purpose and Profit
Approaching marketing strategy from mind frame of superordinate goals, as opposed to the shorter term focus on output will lead to the desired outcomes of the startup's purpose.
Marketing for purpose and profit can be helped by using the McKinsey 7S shared values framework. If you wish, you can use superordinate goals in place of shared values at the center of the model. In social psychology, superordinate goals are goals that are worth completing but require two or more social groups to cooperatively achieve.
The shift in thinking is not huge, but it is significant. Take a look at the superordinate goals tool below and consider how this may change your own marketing policies. Such an approach requires only slight changes to the 'Four Ps' marketing model, making them: Product, People, Planet and Process.
Marketing for Purpose and Profit


ESG: Environment, Society and Governance
A growing number of large corporations now have ESG policies which they monitor, measure and report annually. This aspect of their strategic intent has largely replaced what was known as CSR, since the latter had too often become debased as 'greenwashing'.
One example of marketing for purpose and profitI I appreciate, is Kohl's, the omnichannel retailer, with more than 1,100 stores, across 49 States. Kohl's operates in a sector with many shuttered chain stores. The company's current key ESG policy focus areas are:
diversity & inclusion,

workplace,

philanthropy,

sustainability.
As a Kohl's shopper for only a few months, I have been noticing not only the diversity of the staff on the sales floor, but the positive and encouraging attitude to shoppers. I tend to ask how they like working at Kohls and I get a universally positive response. "Despite the challenges of 2020, we continue to operate our company as a retailer of purpose," said Michelle Gass, Kohl's chief executive officer in the company's 2020 ESG Report.
Their policies are not fluff. For instance their diversity & inclusion actions concern not just their people hiring and HR, but also the creation of an In-house Diversity Design Council to, "develop, purchase and curate culturally-relevant products." In addition they created a Supplier Diversity team in 2020 to embed and activate supplier diversity best practices across their entire supply chain.
Limits of ESG in Commitment to Purpose
ESG behaviors are certainly more progressive than CSR, but yet are not always a real commitment to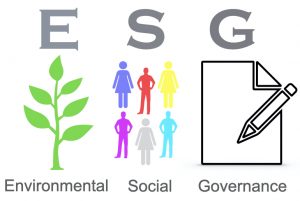 purpose. There is no legal framework to ensure that the company's performance yardstick of last resort are its values, rather than its profits. If Governance (the G of ESG) does not hold management to ensure that profits are only one measure of performance, then when push comes to shove, the ES (Environment and Society) purposes may be debased or not count. The establishment of the Public Benefit Corporation legal form of organization requires a company's corporate Articles of Incorporation set out the code by which its purpose is governed.
Hence, notwithstanding the intent of a growing number of impact-oriented investors to judge a company on the basis of its purpose being fulfilled, the legal obligation may still be strictly financial. Outside shareholders could force a takeover, for instance, solely on a dollar basis. This was the apocryphal case when Ben & Jerry's received bids for the company back in 2001. It did not matter how strong the purposeful views and practices of the two founders had guided behaviors since startup, they were not the deciding factor in determining the company's future ownership and social practices. It was the highest bidder.
Outcomes

Impact

Outputs
Purpose and profits are not inimical to one another. Progressively it has been shown that commitment and action on a company's purpose has a positive impact of its profits.
Personally I notice that my brain has logged that connection. If I enjoy a product and notice for instance that it has BCorp Certification, then it will tend to become a regularly preferred purchase in its category. A case in point was Bigelow Tea (I am a Brit!). The reverse is also often true. If I see a product on the shelf that makes it very obvious the fact that its packaging has been reduced and recycled components are used, I'm likely to select it.
When markets, profits and growth are the dominant objectives of startups, several consequences tend to follow:
quality funding is elusive;

regular customers are critical;

good people are tough to hire;

community support is lacking.
Why is that?
Because investors have become increasingly aware of the impact of their funding. This is not simply those financiers labeled 'impact investors', but the investors who are concerned about the potential hazards faced by entrepreneurs ignorant of ESG issues.
Customers will shy away from 'risky' products. The Boeing Max planes are perhaps the most striking example of this. Investigations and remedial work on the aircraft following two fatal crashes led to the planes being fixed and re-certified to fly. However, discovery of a potential electrical problem six months later led to the renewed grounding of more than 100 airplanes, belonging to 24 airlines around the world. Many travelers have decided not to fly on the Max.
Workers and managers realize that they can and should demand more of employers than straight cash. They have come to expect other rewards of employment, both tangible, like healthcare and maternity leave, as well as intangibles such as training and development, respect and trust. The ESG policies of their employers will be known and tested.
Communities with which the business is involved have growing expectations that will need to be met. A recent example involved Barclays Bank and its involvement in a prison financing deal in Alabama. The American Sustainable Business Council and the Social Venture Circle announced the termination of the membership and refunding of dues to Barclays, based on its involvement in a prison financing deal in Alabama. Abstention from financing was pre-condition to their membership. High profile media coverage resulted in Barclays backing down.
The Soul of the Startup Shows Through Marketing for Purpose and Profit
Marketing for purpose and profit amounts to an expression of the soul of the startup. Openness and clarity about why the business exists is now more than ever the crucial ingredient of marketing strategy, quite as much as the product itself, the place where it's sold, the price charged or the promotion that's used to communicate it's attributes and virtues.
People who have a commercial or any other relationship with a company need answers to why, as much as what. The 'why' is not just a concern of millennials and younger people, but 'oldies' like myself (at 82) are switching to recycling, concerned about the devastation of rain forests, checking the ingredients and provenance of processed food, discussing morality and what the 1% is all about, or even the treatment of workers making garments in sweat shops in the Far East.
The ethics of politicians and captains of industry were seldom questioned when I was a boy. We kept straight faces and said it was none of our business. That's not how it is today, and rightly so. We have become more holistic, less insular, in our thinking. The externalization of costs stemming from pollution, exclusion or prevention are no longer be tolerated. It has taken the enormous toll of asbestosis, lead poisoning, social exclusion or usurious lending to the least capable borrowers, for us to collectively demand what is right and just.
Marketing for purpose and profit sounds like a catch phrase! It may be, but there is a massive movement that is not labeled as such: The Movement for Business Purpose. Spontaneously, in many different manifestations both startups, big corporations and non-profit organizations are making giant strides collectively to redefine the role of business in the world. Remaking Capitalism is:
vital to the survival of democracy;

unlikely to be achieved by mandate;

dependent upon all three social partners.