Public Contracts for Small Business
Big Revenue for Entrepreneurs
Public Contracts for Small Business: It is amazing how few startups think about going after business from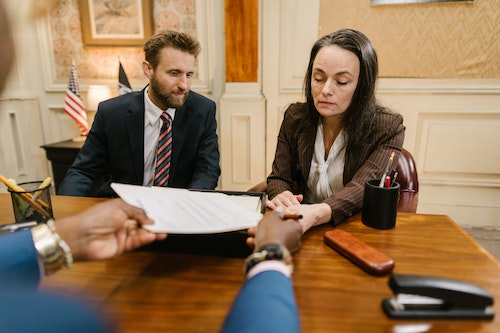 Federal Government, States, Cities and other public entities. All kinds of bodies put out RFPs (Request For Proposals*) and in almost every sector of the economy. It may look like an elephant of a prospect, but it is well worth exploring and surprisingly remunerative.
Public contracts for small business can often be a lucrative way to achieve early revenue, while the entrepreneur is struggling her way through the maze of startup in the early stages of the business. You can bid for public contracts on your own, or team up with others, for example an appropriate department of a local university. It's possible that you may be able to find a post-graduate professor who would be only too pleased to get involved and use it as a valid hands-on learning experience for grad students.
The time cost of customer acquisition will be high initially, simply on account of the bureaucracy involved, but most organizations offering public contracts will want to help you, so don't be daunted. If there's something you don't understand, ask. In addition to the department concerned, the SBA (Small Business Administration) local office can help too. As with any customer type, these initial costs of market entry will not persist as you get yourself set up, and familiar with the process.
The SAM Process for Public Contracts

One of the main steps you'll take towards public contracts for small business, is registering at the Federal System for Award Management (SAM) via their website,

www.sam.gov. But I suggest that before doing so, you make sure you have the necessary information available. Once you register for public contracts with SAM, you'll find that even city procurement departments may need you to be SAM-registered. Some local entities will also require you to register your business with them. That is worth doing since often they will send you RFPs in your field of interest or activity.
The list of what you will need for SAM registration includes:
Your EIN (Employer Identification Number), which is the same as the TIN (Tax ID number) from the IRS.

Your company's SIC (Standard Identification Number), which if you don't know it already, you can get by searching on the NAICS (North American Industry Classification System) Code Drill Down List at www.naics.com/sic-codes-industry-drilldown/

.

If you already have a CAGE (Commercial And Government Entity) code, great, but if not, one will be assigned to you at the end of the registration process.

Your company's DUNS number. If you don't already have one, you can get one free from Dun & Bradstreet (D&B) at https://www.dnb.com/duns-number/get-a-duns.html. They will require two documents which prove your business exists.

Once you're in the SAM registration process, the form will ask for lots of information that you'll surely have already, like the business registration number, bank details and so on.
The Government alone places about $350 billion annually on federal public contracts, and the law requires that 23% of those funds be allocated (set-aside) as public contracts for small business. A huge chunk of change. Not only that, but if your venture is owned by someone in a so-called disadvantaged group, like minorities (5%), women (5%), veterans (5%) and others, you can get preferential treatment. If you are located in a HUB Zone (Historically Underutilized Business Zone) there is even a 3% set-aside of all public contracts for small business. If you want to seek sub-contracting opportunities, they are also available. The NAICS code 541611 Administrative Management and General Management Consulting Services, is probably the one where you'll find most opportunities.
The Small Business Administration 8(a) Business Development (BD) program provides socially and economically disadvantaged individuals who own at least 51% of a Small Business with the ability to receive sole source public contracts up to $6.5M and compete for 8(a) contracts above $6.5M. You need to get an 8a Certification to qualify.
Regional and Local Public Contracts

The federal contract work is only the tip of the public contracts for small business iceberg. If you seek to respond to RFPs from State authorities, you will need all the same information that you got together for SAM, and there 50 States all with huge budgets and many different departments. Working for the government at any level you might assume that it is about supplying products or building things. There is plenty of both of those, but even if your products do not directly have a place in public procurement, think about seeking RFPs for consulting services in your field.
I have also discovered that if you go down further in scale and look at the procurement arrangement of Cities and Local Public Agencies, they will also likely have an eBid system which, with the data you assembled for SAM, where you can register. I did this at my local city (population >50K). Once you get down to this level, you are likely to have much more relevant knowledge.
Other Public Contracts for Small Business
When I sought to bid on a public contract in partnership with a local university, I was able to speak both to the contract buyer and a senior manager in the department that called for the RFP. Some very interesting opportunities appear, such as this one that came to me for an entity with "substantial and relevant experience and expertise to provide assistance to the City in developing a Community Visioning Statement."
Cities often offer a vendor guide to organizations seeking to bid for public contracts. The City of Houston offers theirs, called Guide to Doing Business with the City—take a look. Most of the cities will give you a method to sign up for notifications of RFPs that are relevant to your chosen categories.
Once you start burrowing, as I did, you will find all sorts of interesting opportunities. I just went to the Texas State University System Marketplace, aka the Texas State Public Solicitation page. A quick browse showed me that recent public contracts for small business had been signed for things as different as an assessment of the University's current branding model, piano tuning, a stand-alone E-mail marketing campaign system solution, and a warehouse management system!
Public Contracts Are Not a Startup Distraction
You might think that bidding for public contracts would be a total distraction to the main purpose of your venture. However, in the early days revenue may be hard to come by and the service of such public contracts can generate significant sums. In addition, the experience may leads to helpful learning that can be applied to your main activity.
In the same vein as going after public contracts, you may have read advice that suggests that seeking consulting assignments in your field of expertise can be a lucrative source of revenue as you struggle through the early days. I agree with this opinion and it is likely to be more relevant to staying in a corporate job and attempting to construct the new venture in the evenings and at weekends.
No distraction when you see the kinds of sums the Government pays out on consultants. In 2020, small businesses received $145.7 billion in federal contracts, a $13 billion increase from the previous fiscal year. Going for public contracts is not a distraction provided you are seeking them in the field of your startup. In fact you could even consider public contracts as a form of financial Bootstrap Finance, since (a) you may not need to lay out money to get the contracts, and (b) you may be able to negotiate stage payments, getting paid as you do the work.
Federal Government Contracts with Small Business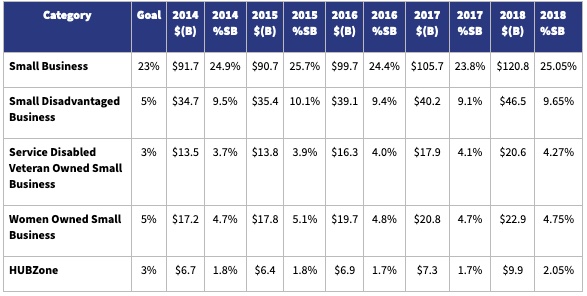 Source: Small Business Administration
This is only an introduction to public contracts for small business,  and how to get in on the act, but if you want more help, there is a mass of information on the Internet.
* Sometimes called an ITB (Invitation To Bid) or a RFQ (Request For Quotation)