Small Town Startup
35 Million Rural Americans Consider They Could Start a Business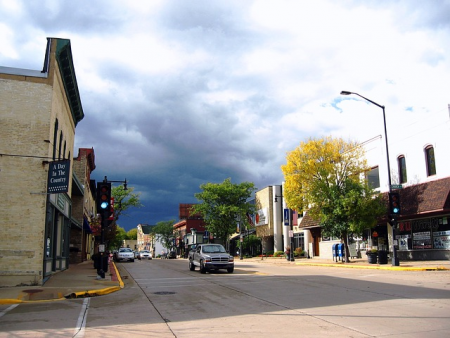 Small town startup: People in rural communities and small towns across America are just as likely to be entrepreneurs as the geeks of Silicon Valley, or the app developers of Austin, Texas.
There are about 60 million, who are classified as rural Americans. It's been estimated by GEM that 56% of the 35 million adults in rural America believe they have what it takes to start a business.
Nationally in the 2022 QuickBooks New Business Insights survey, more than half (57%) of people said they dream of owning their own business "to be my own boss" and "to have more control over my future" as their leading motivations for starting a business.

So why don't more of those 20 million rural and small town people who think they could be an entrepreneur actually commit to the act of small town startup? The major reasons, are:
Startup 'ecosystem' is missing

Local market is too small


Early stage funding is hard

Recruitment pool is limited

However, there are many ways for the enterprising person to overcome those shortcomings.
Create Your Own Rural Startup Ecosystem

The people are there, but there is no established network. It means that you need to seek out other entrepreneurial people, lending officers at local banks and the nearest Small Business Development Centers. Owners of underutilized assets, teachers of business at nearby colleges, the town's economic development officer and many others who have something to gain. You might wonder why I don't mention accountants and attorneys. The reason is that entrepreneurs often think that they need these professionals (and their fees) are necessary at the outset. Of course there are some sectors where they are needed at the start.
Instead of financial and legal professionals, a startup may find that they can network with and use other people. For instance if you decide to use QuickBooks (QB) for doing your bookkeeping, Intuit, the QB Company maintains a list of QB qualified bookkeepers who can be invaluable before and after startup. Likewise your local Chamber of Commerce may be able to introduce you to people who can advise well on legal matters like the registration of your business.

Contact SCORE: they have the biggest network of small volunteer business mentors in the nation. They will likely point you towards other people and organizations that will help you build a local startup ecosystem to support your efforts and those of many other entrepreneurs. Entrepreneurship is the keystone of community and economic development and you'll find many partners.
Big Small Town Markets: Consulting, the Internet, Public Contracts and Grants

Your small local market may be the ideal for your kind of startup. If you need something bigger, starting in a small town, or the middle of fields, is no longer a disadvantage.
While you get your small town startup off the ground, you can start by doing Consulting Assignments in your field of experience and expertise. Consulting may not being in a direct line of where you want to go, but they would offer two advantages. The first is cash flow and the second is contacts and leads to opportunities in the field you want to enter.  Some assignments are offered by companies and other organizations, yet others may stem from your direct approach to a potential client when you identify an opportunity.

The Internet is the route to all kinds of opportunity beyond your local boundaries.  You can use the web proactively, by creating your own website and doing web marketing to attract non-local business. You can use the web both to search the web for customers and opportunities. In addition, you can use it to find competitors and market niches that may not have occurred to you in the planning stages of the startup.
However, probably the biggest neglected and largest opportunity for startups and small businesses is Public Contracts. If you want a head start in this lucrative field, CLICK THIS LINK to find out more about public contracts and special opportunities in the Federal market, especially those that are reserved for small business and minorities. In total the Feds spend about $500 billion on public contracts and about 20% goes to small and minority-owned business.
Be sure not to limit yourself to the US Government requests for proposals. They are also offered by State, Regional, County and City Governments. But that's not all, there are other kinds of organizations that contract for products and projects. The ones that come immediately to my mind include Universities and Colleges, School Boards and NGOs.

Early Stage Funding for Small Town Startup

In recent times, access to early stage funding has been changing with new forms of capital and loan finance. The biggest change and opportunity for small town startup has been the introduction of equity crowdfunding platforms, accessible from everywhere and that make special sense within a rural community. The best platform is Wefunder, especially for purpose driven startups. CLICK HERE and you will get a fee discount if you do launch equity crowdfunding with them.

Many other new forms of funding are now available, particularly in rural areas. For example, there are Community Supported Businesses, where local people provide direct backing often through advance payment for goods or services. 
A Direct Public Offering, is a type of offering where the company offers its securities directly to the public to raise capital. An issuing company using a DPO eliminates the middlemen—investment banks, broker-dealers, and underwriters—that are typical in initial public offerings (IPO) It self-underwrites its securities. There is Cutting EdgeX, an online marketplace that connects everyday investors with independent, social enterprises that need growth capital.
Cash for Small Town Startup

American Express Business Blueprint provides lines of credit to businesses that might not be able to receive them from banks due to the risk. Plus, as time goes by and a smaller business gains its footing in the market, American Express Business Blueprint lessens the payback rates. Grants are another source of funding, where no repayment is necessary. At Bench you can find a 2022 list of Small Business Grants for Startups—visit the list. It will be rewarding. At Bench you can find a 2022 list of Small Business Grants for Startups—visit the list. It will be rewarding.
Another good bet is Chisos who have a revolutionary new funding source for founders: the Convertible Income Share Agreement, or CISA. A CISA is designed to give founders access to capital, without having to sacrifice excessive ownership or bet the farm. Instead, you'll get access to funds you can use to build your company and a support network of resources, peers, and mentors. Chisos was founded by William Stringer, who raised equity for the company on the Wefunder equity crowdfunding platform, mentioned above.
Many moons ago part of my own startup finance came from revenue-based financing, sometimes referred to as royalty-based financing (or RBF) It's a type of business funding in which a company secures capital from investors. These investors receive a certain percentage of the business's future monthly revenues in exchange for their initial investment, rather than shares. The funder will get the agreed-upon monthly revenue percentage until a predetermined amount has been paid.

Recruiting Staff for Small Town Startup

The leveling effect of the Web allows you to compete with multinationals. You can set up your business on the kitchen table, make your own website, add PayPal, and then delight in your sales at the same time as you stir the soup. For instance, you can build your team in different locations without traveling, using free collaboration apps like Podio, free for up to 5 users, Flock, with free and pro versions, or Ryver, free because they make money from add-ons. The availability of online learning is leveling the educational map. Here come silicon prairies, digital villages (many are being established in Asia and Africa, but why not in the US, too?), and mobile hamlets!
An alternative to hiring is to go online and find out for yourself online. Access to learning opportunities is easy, through sites like Udemy, EdX, Khan Academy, Coursera, and of course, YouTube and Podcasts galore. My experience with using outsourcing sites like Fiver is that when you have something very distinct and short term it works well, but more complex and regular jobs can be tricky. For instance I had a Fiver person design the covers of my eBooks and it was easy and quick.
Food Hubs: a Boon for Small Town Ag Startups

More and more food hubs are developing in rural communities. They often enable small food processors and manufacturers to share facilities and learn from one another, for example by using a community kitchen. Food hubs can benefit farmers by connecting them with additional (often larger) markets, and providing services like marketing, accounting, sales and education. To learn more about one, look at the Vermont Food Venture Center. Another example of a local food hub is Quad Cities Food Hub in Iowa.
The USDA publishes an excellent Directory of Food Hubs across the nation (currently it lists over 200). The Department of Agriculture encourages them because there is a policy to encourage small scale local food and agri production. In this world of supply chain distribution difficulty, food hubs—and maybe other rural and small town business sectors—can more than fill the gaps on the shelves.

Grants and Incentives for Startups
Don't forget Grants, where you don't have to repay the money you get. Of course you still have obligations to meet the grant's requirements. A good way to find grants for small town startup is to visit Grants.com, where you'll find an amazing array of available grants, as well as help in how to apply for them and the whole grant writing process. When I last looked there were more than 1,000 grants in their database specifically for small business.
Though much publicity is given to incentives for major companies to move to a new location, there are wide variety of grants and incentives available to small town startup. For example, the USDA offers a Rural Business Investment Program. Another avenue for rural and small town startup is the SBIR (Small Business Innovation Research) award . The SBIR award is one of the only federal grants available to for-profit entities and small businesses in particular. The Environmental Protection Agency offers a National Award for Smart Growth Achievement; indeed the Brattleboro Food Coop (on whose Board I served for 3 years) in Vermont won such an award.
Business Structures for Small Business Startup

You don't necessarily have to set up a company to establish a rural or small town startup. You might simply operate as a solopreneur and register a DBA (Doing Business As), so that you have a name that relates to your activity. This avoids the formalities associated with an LLC or corporation, but of course you would not get limited liability protection. Another route could be as a co-op, such as a food co-op, or a worker co-op. You could register as a Benefit Corporation, or a limited profit company (L3C). It's all about what is coming to be called the 'Fourth Sector' or the 'For-Benefit Enterprise'.
Another page of this site will guide your selection of which of the business entity types is right for your small town startup—CLICK THE LINK right away and save yourself a lot of worry and expense. You probably won't need an attorney, because the Corporations Division of the Secretary of State will be very helpful in guiding you through the registration process.
Space Is Less Expensive for Small Town Startup

Small town startup has many advantages over urban equivalents. Work space is much less expensive and many rural entrepreneurs set up at home. Here's a new idea that's becoming popular: the 'hoffice'. That's an office at home that you can share with a small number of other micro-enterprises. It's sort of an incubator without the overhead. If your office is well set up with desks, printers, or say a 3-D printer that can be shared, you could even add extra income.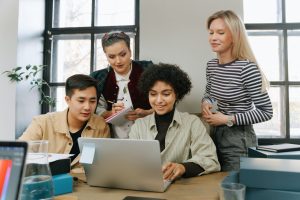 You may also be lucky enough to find a coworking space in your own area. They provide a less expensive, more flexible option to taking a space of your own + they provide excellent opportunities for networking. If there is not one on Main Street already, then think of starting one yourself and housing your startup in it! You might even help a future customer to get started.
Small town startup coworking spaces will help to invigorate the local business community. They are likely to help others take the leap.