Business Entity Types
Decision Making Table to Decide the Right Legal Form for Your Venture
Business Entity Types: The main types are shown in the table, but there a few variants, such as the Social Purpose Corp in CA, or the Public Benefit Corporation in CO. Check the latest status with your Secretary of State's office in your own State.
The L3C hybrid entity can attract private and philanthropic capital to enable a socially beneficial objective. Even though it has a primary charitable mission, it is free to distribute the profits to its members. Several other hybrid entity forms are being created, such as back-to-back for profit and nonprofit entities. Operating Foundations, a seldom used formula, can have for-profit subsidiaries.
Vermont is among only a handful of states in which you can create and operate your business digitally—without a physical presence in Vermont. This is called a digital, or virtual, company.
In any case, you should discuss your options with the office of the Secretary of State in the State where you'll be operating. In my experience staff members are very willing to guide you towards the best solution to meet your purpose, in many cases avoiding the expensive recourse to using an attorney.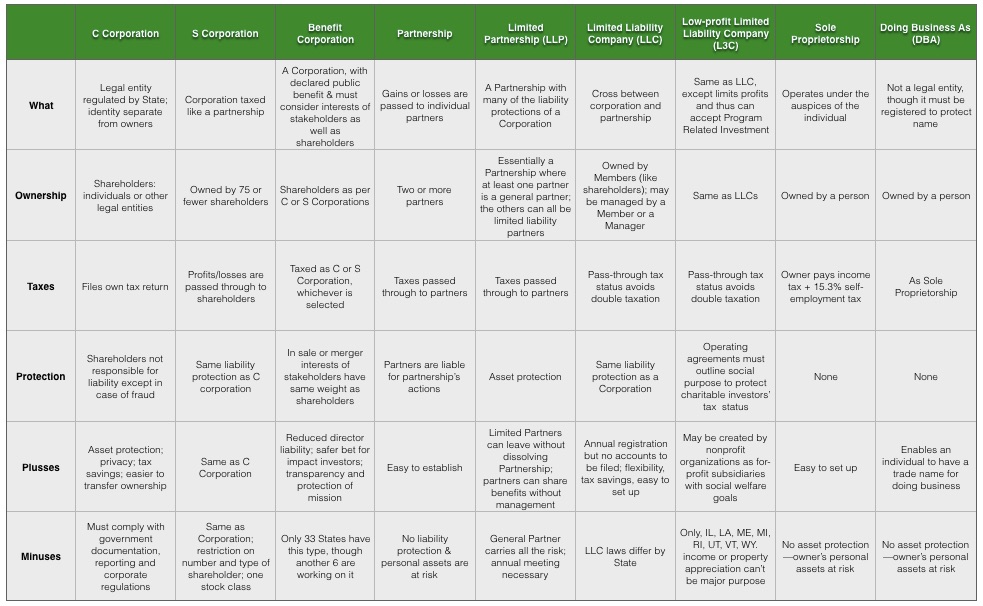 New approaches to business structures: There has been an emerging fourth sector for some time now. The concept was originally recognized by the Aspen Institute in its 2009 report, The Emerging Fourth Sector. This essentially is about the overlapping and converging of the the three traditional sectors of for profit, non-profit and government, as each seeks to make our world better meet people's needs.
What I have observed more recently is that the situation has become even more complex, as founders create new arrangement that best suit their own purpose, using different forms in combination and an application of IRS rules to suit their own needs. So, for example, as Non-Profits struggle with traditional forms of fund-raising, they go to the limit of the IRS rules on how much trading they may do.
Other people in the commercial sector operating what are commonly called social enterprises, seek to deliver social benefit using commercial models. There are hundreds of examples, such as Better World Books, Newman's Own, Tom's Shoes, or Warby Parker.
There are other creative examples, such as Prosperity Candle, established by Ted Barber. He established a a new and innovative model for helping lift women and families out of poverty, through two aligned organizations – a social enterprise and a nonprofit – that work together to solve a problem and deliver sustainable impact: disadvantaged women in war-tern countries.
Co-ops and employee-owned businesses are more established models that do not exactly fit the mainstream business model. You need to be very convinced about the purpose of your venture to decide which way to go and if there is no established structure that suits you, don't be afraid to seek out an an innovative one that will!