Startup Workshops
Refine Your Ideas and Be Stimulated by Fellow Learners
Startup Workshops: The best startup workshop that I ever attended was one designed to enable a venture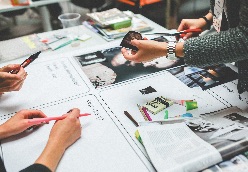 capital company to decide on potential startup investments.
Lead entrepreneurs from about a dozen putative startups attended a series of three long weekend residential startup workshops.
Rather than assessing business plans, the leaders of these startup workshops assessed the entrepreneurs themselves and how they:
spotted opportunities,

solved problems,

learned from failures,

worked in small teams,

evaluated risk,

dealt with pressure,

handled competition,

demonstrated leadership,

presented ideas,

formed relationships.
The startup workshops were fast-paced and fun, was not 'taught', but 'led' by the team of a member of the VC company, a business school professor and a psychologist. Most of the evaluation occurred in the minds of the participants, so that when the eventual feedback came from the leaders at the end of the three weekends, none of it was a surprise.
The exercises were not 'business-school' formula, like case studies, but rather they were hands on exercises, mostly not carried on behind desks but in activity. Examples included building complex structures with Lego bricks in a compressed amount of time; playing horseshoes for money, working out numerical puzzles but not in a business context, or creating virtual products to meet expressed needs.
At the end of the series of startup workshops, I was selected as one of three participants to be followed up by the venture capitalists. However, in the event we concluded that my firm was not one needing venture capital, since it was in vaporware rather than hardware. However, my 'takeaways' were very valuable, and it cost me nothing but my time.
Free Startup Workshops
You will probably not be as lucky as I was, back in 1980, to find such an event, but now you have the advantage of finding many startup workshops for founders online. Many business schools and other universities offer free online programs for entrepreneurs. They are well worth your time, at least to find out what they cover and determine whether they meet your needs.
Another source of free or low-cost startup workshops is your local Small Business Development Center (SBDC). They are sometimes sponsored by a university, community college or State. My nearest SBDC is sponsored by a Development Corporation. You can find yours most easily using a search by Zip Code at America's SBDC.
Paid Workshops
While there are fees for participation, the startup workshops run by business incubators and accelerators. Those run by incubators are generally easier to join, since like my VC run workshops, the ones run by accelerators are competitive to join. To be successful in the selection process, your new venture will be further down the trail than "I have this amazing idea for a new business." To find an incubator or accelerator appropriate for you, visit the Venture Founders Business Incubator and Accelerator Directory—USA.
For example, a friend of mine, Kevin Koym, founder of the incubator Tech Ranch Austin, says "By supporting entrepreneurs, we build community to impact the world". Indeed he does just that and Tech Ranch runs four different levels of workshop.They are: Ideation—Venture Start; Launch—Venture Forth; Growth—Venture Forth Pioneers; and Scaling—Venture Builder.
Coworking
Coworkring spaces are fast multiplying across the US, not only in the metro areas where the incubators and accelerators tend to be located, but also in much smaller towns across the country. The Venture Founders Coworking Directory—USA has not only a comprehensive listing of spaces by State, but a lot more information about the kinds of spaces you can find. Coworking, while not offering startup workshops as such, offer a great opportunity for learning from others in the process of starting new ventures.
Many coworking spaces do facilitate events, but they also frequently have access to mentors and specialists who can provide help and support to a fledgeling business.