Blooming Beauty Business
B Corporations Lead the Way
Blooming Beauty Business: The cosmetics and toiletries sector is about improving the appearance and health of the body and is in a period of significant growth in sales and new products, resulting from the growing awareness of personal hygiene and health. At the same time, concerns about the consequences of using such products is driving the demand for organic and natural products. 
Purpose-driven ventures set the pace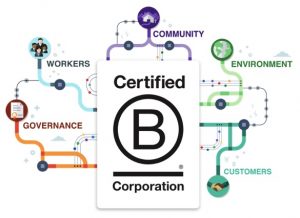 Major players do express concerns and use appropriate language, but the sector's purpose driven ventures are the ones setting pace.
However, a B Corporation, Natura of Brazil will be the biggest purpose driven business in the world, following the firm's pending acquisition of Avon ("Live Beautifully"), to be completed in 2020, when the combined company will have an annual revenue of over $10 billion.
Founded in 1969, Natura also bought The Body Shop in 2017. L'Oréal had bought The Body Shop from founder Anita Roddick, for over $1 billion in 2006. In 10 years under L'Oréal ownership, the company's original values had become somewhat diluted. Natura vows to make beauty a force for good, bringing The Body Shop back to its roots.
Harmonious relationships
In 1976 (the year the first Body Shop store opened in the UK), when Avon ladies were already pounding many streets on both sides of the Atlantic, no one would have suspected over 40 years ago that the two companies would come under the same umbrella one day. It is delightful that companies with such very different business models can come together for reasons of purpose, rather than profit alone. 
Certified B Corporations1 are a new kind of business that balances purpose and profit. They are legally required to consider the impact of their decisions on their workers, customers, suppliers, community, and the environment. This is a community of leaders, driving a global movement of people using business as a force for good and encouraging harmonious relationships among communities.
There are about 40 other B Corporations in the cosmetics and toiletries sector, including several new ventures. The swift growth rate for sustainable and green beauty startups, often with organics, or botanicals in their DNA, is currently very noticeable, even outside the BCorp world. Traditional brands are generally seeing sales stagnate or go down, whereas most independents are experiencing a boom.
Men's cosmetics startup, Caldera, is a new BCorp
Another blooming beauty business, but at the other end of the size scale from Natura, one B Corp startup example is Caldera + Lab, co-founded in 2017 Jared Pobre and his wife, Stacy Keibler. It's a men's cosmetics producer in Jackson, Wyoming. No ordinary cosmetics firm, though, since they set out to create a men's face serum fueled by high-altitude botanicals found in their region. Plants that survive in harsh conditions, such as those found at high altitude in the Tetons, are more potent.
Naturally, they set out to get B Corp certification, which they gained in the summer of 2019. It is interesting that the founders' motivation was less to build a business for its own sake, but to build one with a sense of purpose. When they moved from LA to the dry harsh climate of the high alpine, they noticed their skin began to suffer. They say their, "journey embarked in 2014 when our quest for improved health and a connection with nature ignited…".
Jared and Stacy's new venture is one example among a large number of purpose-driven startups in the beauty (cosmetics and toiletries) business. A reason, perhaps why there are so many is that the industry is actually quite hard to regulate, and thus entry to the market is not quite as restrictive as some others2. And the global market for male grooming products is booming. It is projected to reach $60.7 billion by 2020, according to Euromonitor. So not a bad place to be.
Healthy body care firm, WS Badger, is a mature BCorp
Another BCorp (since 2011), WS Badger, the body care products company, was started by Bill Whyte in 1995 when, as a carpenter working in the cold New England winters, he created a balm that helped his cracked hands and he wanted to share it with the world. As well as being a BCorp, Badger is also a New Hampshire Benefit Corporation. Much developed since the nineties, and still a blooming beauty business, leadership of the company passed to Bill's two daughters in 2018.
Now employing nearly 100 people, the company has much evolved, while remaining true to Badger's founding principles3. In the Gilsum, NH headquarters that the company built in 2004, there's a 'new ideas room', where employees work on 'tomorrow', to ensure that all their thinking responds to the challenges that are faced by the business.
Badger is essentially in the same marketplace as the giant multinational, Natura, but while the scale and reach of the two companies is hugely different, they both share very similar values—making the world a better place.
---
If you have enjoyed reading this, there are some other pages on Venture Founders that you may be interested to visit: Movement for Business Purpose; Rewriting the Rules of Business; Purpose of the Venture; Beneficial Values. 
---
1 Disclaimer: Venture Founders LLC was a founder BCorp in 2012, but is no longer one, because I work on my own.
 2 For the factsheet on FDA regulations for small businesses in the sector, see these notes. They provide a guide any intending beauty startup.