Co-opetition
Benefits for Partners and Customers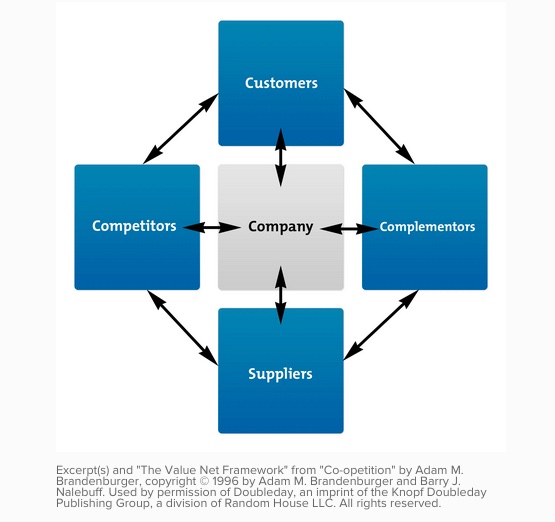 Co-opetition: Co-opetition is an increasing popular behavior among both multinationals and entrepreneurial businesses alike. It is a function of competing companies that also cooperate for operational efficiency and effectiveness. An example of co-opetition is the agreement between Pfizer and BioNTech jointly to develop a COVID-19 vaccine.

Co-opetition as a business idea was described by Barry Nalebuff (of Yale Business School) and Adam Brandenburger (of Harvard Business School) in their book, Co-opetition (Currency Doubleday, 1997), or read their 2021 HBR article. It means cooperative competition—when industry participants behave in a way that benefits all. They co-opetate rather than compete.
The authors describe what results as a Value Net.
The model illustrates the interdependencies between your organization and four other key players, including:
Customers—the people who buy your product or service.
Suppliers—companies/individuals that provide you with the resources you need to produce a saleable product. They can be outside organizations, or your own employees.
Competitors—other organizations that take a share of your target market by offering a similar product or service.
Complementors—other players who provide a product or service that can be linked to your own to make both offerings more attractive to your customers.
Co-opetition is in stark contrast to big company cooperation, which attracts negative reactions and is often described as price fixing. It may be called antitrust behavior and attract the attention of regulators.

Co-opetition Benefits Partners and Customers

One recent example of co-opetition is the agreement between Pfizer and BioNTech jointly to develop a Covid-19 vaccine. Another example is Patagonia + eBay Store, where Patagonia helps eBay customers sell and buy high-quality pre-owned gear, reducing their environmental impact by extending the useful life of Patagonia products. This benefits customers and suits the green policies of both companies.

You might also say that Amazon and Apple indulge in co-opetition through the Kindle app for iPad. One of the more interesting examples is the cooperation between the Government-owned USPS and its commercial rivals, FedEx and UPS, since the latter may be more efficient at the network level, while the former is unbeatable at the 'last mile', in many cases. Transit agreements help to lower costs and raise revenue for all three. Under the agreements, Priority and Express Mail items can be dropped off at any FedEx or UPS. The private companies, which have more efficient cross-country warehousing and shipping logistics, provide shipping to post offices serving the intended destinations where the USPS becomes more efficient with delivery.
Using open source licensing for commodity software in cooperation with competitors whilst carefully guarding software that provides a business edge from those same competitors is a classic example of co-opetition. Open source offers significant potential for the reduction of costs for in-house development. Achieving these savings does however require that an organization understands open source and how to operate in a very different development environment.
Co-oeptition is a Mindset a Well as a Strategy
If you are a dolphin you see the ocean as a friendly and fun place to be, where collaboration is a norm and violence is rare. That does mean there are no sharks about, but you assume that they mean you no harm. If you are a shark, you assume that everything is food or foe and that mindset results in that being your reality.
In business, your mindset produces your behavior. If you think, "I'm going to beat the competition", you will most likely indulge in predatory behavior and think nothing of killing competitors if it gives you a bigger bite of the market. On the other hand, if you think, "I'm going to create new opportunities", chances are that you will find opportunities to collaborate and expand your collective market.
Such a co-opetition mindset will bring you think about how you can work with others rather than against them. It is not unrelated to the idea of 'shared value', a term given new impetus by the strategy guru, Michael Porter.
Co-opetition in the Social Field Works Well, Too
In order to help address food insecurity and deliver medically tailored meals, organizations are working together in northern Ohio for a greater goal. Spearheaded by the United Way of Greater Cleveland, The Benjamin Rose Institute on Aging, and 11 managed care organizations like UnitedHealthcare, hospital networks, philanthropies and community-based organizations are able to seamlessly scale a meal delivery system throughout the region.
Len Nichols of the Urban Institute says, Co-opetition can also be part of a larger effort to get government to move away from 'we are paying for health care services' to 'we are paying for health'." Daniel Goleman, author of A Force for Good, says "Our times require leaders who are not only intelligent, but wise. Wise leaders develop strategies that target the greater good, not just an organization or individual."

Learning Through Co-opetition Creates Shared Value

Michael Porter and Mark Kramer say, "Capitalism in under siege…companies are widely perceived to be prospering at the expense of the broader community…" and then go on to describe how "Companies must take the lead in bringing business and society back together…The solution lies in the principle of shared value, which involves creating economic value in a way that also creates value for society by addressing its needs and challenges."
The two pieces of the jigsaw belong together and since the Industrial Revolution, there has been strong denial of the mutual interests as companies externalized so many costs. The environmental movement has propelled managers into accepting the interdependence. Co-opetition partners make learning more effective and faster through their collaboration.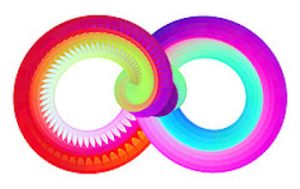 For startups it can the shared value can be through working with others in coworking spaces or business incubators. It can come through sharing costs. For example, a booth at a trade show could be shared by complementary companies. Or an expensive piece of equipment can have shared use.

Successful entrepreneurs know how to practice co-opetition instinctively—it never seems like anything extraordinary! It's just a good way to get things done with limited resources and a focus on outcomes. I never knew it existed until reading about the Co-opetition book.

Financial Bootstrappers Have Known Co-opetition for Ages
Good entrepreneurs find creative ways to minimize their costs. It is frequently described as financial bootstratpping, but the new business just knows it as a means of survival. If a startup needs a new machine, but does not yet have sufficient volume for it to be in constant use, it may decide to see if there are other small businesses in the same field who might share in purchasing the equipment. If you want help with bootstrapping, I can help—visit my page on Bootstrap Startup Finance.
Another example of co-opetition among entrepreneurs happens when there is not a full-time job for a bookkeeper, a management accountant or other specialist. Of course you can outsource the bookkeeping or use software, but often you want the regular advice of your own person, so, by finding another venture in the locality in a similar position, you could make a full-time job between the two of you.
You may find such opportunities by joining a local Entrepreneurs MeetUp group. An other example of like-minded businesses co-opeting is The Small Business Web the trade association for companies selling cloud-based software for small businesses. It was started by 5 founding companies Batchbook (CRM), FreshBooks (accounting), Mailchimp (marketing), Shoeboxed (expenses), and Outright (bookkeeping), who began talking about how similar their philosophies were about customer service and making life easier for small business owners.
This example of building informal alliances, or co-opeting, with other ventures like your own mirrors natural relationship building that people do in their private lives.