CoWorking & Living Spaces
Better Than Working from Home + Networking with Other Founders
CoWorking Spaces: Coworking is a fast-growing movement to provide flexible shared workspaces. Many coworking spaces offer virtual


offices as well as physical space to the artist and entrepreneur. Most coworking spaces offer space by the hour, desk or individual office.
The benefits of using coworking spaces are considerable, both in terms of 'getting out of the house', but in sharing facilities and networking with other tenants and users. Although this directory is of coworking spaces, many have maker spaces as well (but look at the Venture Founders Directory of Maker and Hacker Spaces, too. Some also offer virtual working possibilities.
Since numbers of coworking spaces are increasing rapid, this directory will tend to fall out date, but a service that covers major cities in the US is Croissant. By joining you can get ready access to hundreds of spaces in Manhattan, San Francisco, Los Angeles, Washington DC and Boston.
Chains of coworking spaces are multiplying themselves, as this working and startup space phenomenon becomes more and more popular and evolved. It may well be worth your while looking at the Multiple Locations listing below, if you don't find what you want, or even if you do. Also, I suggest you look at the Venture Founders Directory of Business Incubators and Accelerators, for many of them may provide much more what you're looking for.
Given that Coworking Spaces are so popular now, you need to be very selective, to be sure that the location you pick really meets both your operational needs and your 'cultural' ones. Some sites are run by non-profits, some are operated by real-estate investors, while others are run by groups of individuals. Economic development organizations are sometimes involved, too. Many have industrial and commercial sponsors.
Many offices used by coworking spaces are converted from abandoned or empty buildings, hence sometimes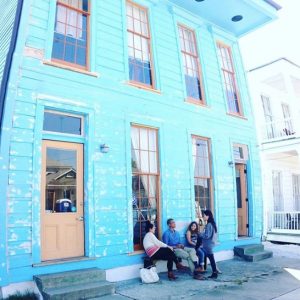 making accommodation affordable to entrepreneurs who are cash-strapped.
Since some coworking spaces are sponsored by city authorities or nonprofits that are able to procure interesting properties at prices unavailable to other companies offering small office rentals. Indeed, some of the operators with multiple commerical coworking locations are real estate companies, rather than organizations with any particular social purpose.
One of the prettiest spaces I have come across is the Blue House in New Orleans, just south of the French Quarter (listing below). It describes itself as "welcoming, communal, and casual; it's where new connections are made through the wide variety of programming that makes The Blue House more than a traditional coworking space."
Significance of the Coworking
The significance of the coworking phenomenon is great on several dimensions. It is encouraging the entrepreneurial wave against a background of the diminishing number of startups over recent years. Based on the development of community, it is sponsoring mutuality and learning among those who might have had ideas, but lacked support.
Whereas business incubators and more so, accelerators, have a heavy financial focus, my view is that coworking spaces are much more facilitative of the human aspects of what it takes to start an enterprise. The interactions that come from the social aspect of coworking enable innovators and business creators to network with others in different disciplines.
Specialization
More and more specialization is happening in the coworking movement. Examples include Louisville Bespoke in Kentucky (see listing) which is just for fashion makers. Another example is Geekdom in San Antonio, TX (see listing) whose purpose is to provide "an environment where we empower and inspire innovators in order to transform our world for the better." Koi Creative in White Plains, NY (see listing), calls itself 'hybrid', in that it caters for creatives. LearnLaunch in Boston (see listing) specializes in edtech. The Food Loft in Boston (see listing) is in the food sector, as is Branchfood (see listing), also in Boston. Greentown Labs in Boston (see listing) is devoted to cleantech.
Green Coworking is growing, too. Examples include Greenspaces in Denver (see listing) and pet-friendly Greendesk has several locations (see Multiple Locations listing). Several coworking spaces have fitness facilities, but I have just come across one in Nebraska that includes basketball, volleyball and soccer (see listing for Thrive Space).
Hoffice—Coworking Space at Home
Another related (Swedish) phenomenon is the co-called 'hoffice', where someone opens up their home to others as a workspace. The work spaces are free of charge, making use a during-the-day underused resource. They allow individuals to benefit from the support and intelligence of the collective, but so far as I can tell, the idea has not really taken root in the US.
Coworking with Childcare
A further exciting new development is coworking spaces with childcare, yes with child care. Examples include The Cube in Baltimore, Nido in Durham NC, The Inc in Seattle WA, Play, Work or Dash VA, The Hive TX, The Hatchery MO (all listed below). Alley in Boston is another that is part of Verizon. These locations are obviously more for millennials, but grandparents who help out with childcare for their children, while they create a startup (the average age for new entrepreneurs is 45), they can be a boon, too.
Coworking by/for Women
There is a growing trend of coworking spaces being owned and/or designed for female entrepreneurs and other creatives. Examples include in The Commons (see Minnesota listings), The Hivery (see California listings), Paper Dolls (see California listings), The Riveter (see California listings), Hera Hub (see Multiple Locations listings), The Wing (see New York listings). Other examples are CowerkHers in Portland, Maine (see listing), The Meeting Place in Biloxi Mississippi (see listing) is women and veteran owned. There are beginning to be Coworking spaces combined with fitness facilities; one example is Movement in Westbrook, Maine (see listing).
Coliving—no Kids
And newer still are coliving spaces, where you can both live and work, though generally not permanently. You can see a site devoted to coliving or try individual locations like Roam, which is an international network of coliving spaces. Ollie is another coliving space with a number of locations (where you can rent permanently). Others include Common, and Tribe Coliving.
…and Coliving with Coworking
The Collective is a pioneering combination of coliving with coworking; take a look! Startup Temple is a co-living space that hosts entrepreneurs, inventors, artists and professional community from all over the world in San Francisco. The Outpost Club has several houses in NYC and enables professional networking, and as they say, for tech startups, entrepreneurs, digital nomads, freelancers, remote workers, professionals, students, and anyone looking to move to a new city and meet new people.
…or Coliving and Coworking and Incubating on Vacation!
Digital nomads and online entrepreneurs may well be tempted by going to exotic places for inspiration and networking at DNX Camp—a German startup offering short-term stays in vacation destinations. A competitor with locations in seven in US vacation and destination cities as well as several overseas, is Outsite. If you want an added new cultural opportunity, then you could try Isthara, a startup in India offering coworking/living.
There are digital Nomads making use of several coworking spaces as they move about the country in pursuit of their startup or business needs, since most coworking spaces make desk space available on a short-term basis.
…and even change the world?!
The Assemblage is a coworking and coliving place in NYC, that goes even further, by declaring that they "believe in making a living as a function of positive impact on others, and exploring the highest service that our lives can offer to the whole." In addition they have in The Assemblage Sanctuary, a 140 acre property in Upstate NY "to slow down, connect with nature and exchange ideas around consciousness, science, philosophy and culture". The Social Innovation Forum in Boston see listing), as it's name implies, "provides a combination of capacity and network building to create positive social change" in greater Boston.
Directory of Coworking and Living Spaces
This Directory of Coworking Spaces, even though it lists over 500 spaces it is incomplete—for sure, since there were estimated to be more than 4,000 in the USA in 2017. There are now so many choices to choose from, you will need to make your selection after very careful consideration of your needs, especially in big cities. Rural areas are naturally less well served, but search yourself through your networks and local contacts.
When you are considering using a coworking space, you will obviously consider issues like location, price, facilities and who is there already. I suggest that before you decide, you give thought to:
who owns and/or manages the space, checking that their values and purpose are aligned with your own;
whether the cost will be justified by the people you're likely to meet and the complementary skills you'll find;
the flexibility of contracts, since your needs will probably change during the time that you work there;
if there is any kind of training or events that will enhance you own skillset—are they free or paid;
will they flood you services that you don't yet need, or do they have good connections with suppliers you do.
Please write to will@venturefounders.com to make additions, updates or improvements.
Alabama
Alaska
The Boardroom (Anchorage) https://www.theboardroomak.com/
The Hub (Fairbanks) http://fbxhub.com
Arizona
Co Hoots (Phoenix) https://cohoots.com
Connect (Tucson) https://connectcoworking.com
Coworking on 15th Ave (Phoenix) http://www.coworkingon15th.com
Deskhub (Phoenix) http://www.deskhub.com/phoenix/
Elevate Coworking (Phoenix) http://elevatecoworking.com
EZ Spaces (Gilbert) https://www.ezspaces.com
Gangplank (Avondale, Chandler, Queen Creek) http://gangplankhq.com
Infinity Coworking (Chandler) https://www.infinitycoworking.com
Momplex (Gilbert, with childcare) https://momplex.net
The Department (Phoenix) http://departmentphx.com

Union Workspace (Phoenix) http://www.unionworkspace.com/
Arkansas
California
Colorado
Connexion Spot (Castle Rock) http://www.connexionspot.com/
Cosolve (Longmont) https://www.cosolve.co
Density Cowering (Denver) https://www.densitycoworking.com
Elevate Cospace (Brekenridge, Frisco) http://www.elevatecospace.com
Enterprise (Denver, Greenwood Village) http://enterprisecoworking.com
Epicentral Coworking (Colorado Springs) https://www.epicentral.org
Goosetail Spaces (Louisville, Sloan's Lake) http://goosetailspaces.com
Green Spaces (Denver, green) https://www.greenspaces.com
Impact Hub Boulder (Boulder) https://impacthubboulder.com
Industry Denver(Denver) https://www.industrydenver.com
Jefferson's Study (Fort Collins) https://jeffersonsstudy.com
Loveland Creator Space (Loveland) https://lovelandcreatorspace.com
Modworks (Denver) https://www.modworks.com
Shift Workspaces (Corona) http://shiftworkspaces.com/corona
Simpaticoworking (Eagle) http://simpaticoworking.com
The Enclave (Colorado Springs) http://enclavecoop.com
Thrive Workplace (Denver, Arvada) https://www.thriveworkplace.com
Connecticut
Delaware
1313 Innovation (Wilmington) http://1313innovation.com
The Mill (Wilmington) http://themillspace.com
The Hub at 1201 (Wilmington) http://stat.international/office-solutions/the-hub-at-1201/
Florida
Georgia
Hawaii
BoxJelly http://www.theboxjelly.co
Hawaii Tech Works http://www.hawaiitechworks.org
Spaces Maui https://www.spacesmaui.com
Idaho
The Office Sandpoint https://www.officesandpoint.com
Trailhead https://trailheadboise.org
Work Farm https://www.work.farm
Illinois
Indiana
Iowa
Kansas
Kentucky
Louisiana
Maine
Maryland
Massachusetts
Michigan
Minnesota
Collider https://www.collider.mn
Evolve Workplace https://evolveworkplace.com
Modernwell (women) http://modernwell.spaces.nexudus.com/
TenBelow Coworking https://10belowcoworking.org
The Commons https://www.thecommonswp.com
The Coven (women) https://www.thecovenmpls.com
The Reserve https://reserve.work/
Workaround https://www.workaroundtc.com
Mississippi
Missouri
Montana
Multiple Locations (look for a space in your State)
Nebraska
Nevada
New Hampshire
New Jersey
New Mexico
New York
Alley (NYC, with nursery) https://youralley.com
Beahive (Albany, Beacon) https://beahivebzzz.com
Blender Workspace (NYC) https://blenderworkspace.com
Blue Moose Club (Albany) http://bullmooseclub.com
Blueprint & Co (NYC) https://blueprintandco.com
Bond Collective (NYC) https://www.bondcollective.com
Bridgeworks (Long Beach) https://bridgeworkslongbeach.com
Bronx Coworking Space (Bronx) https://bronxcoworkingspace.com
Carlson CoWork (Rochester) http://www.carlsoncowork.com
Center for Social Innovation (NYC) http://nyc.socialinnovation.org
Clinicube (NYC medical) https://clinicube.co
CoWork Buffalo (Buffalo) http://coworkbuffalo.com
CoWork@Grid (Rochester) http://gridnewyork.com/cowork
District Cowork (NYC) http://www.districtcowork.com/
Ensemble (NYC) http://letsensemble.com
Fueled Collective (NYC) https://fueled.com/coworking-space-nyc/
Fuigo (NYC interior designers) https://www.fuigo.com
Grid (Rochester) http://gridnewyork.com/cowork
Her Sanctuary (Buffalo, women) https://www.hersanctuarybuffalo.com
iLoftSpace (NYC) http://www.iloftspace.com
Impact Hub (NYC) https://nyc.impacthub.net
Innovation Center (Buffalo) http://innovationcenterbuffalo.org
Joynture (NYC) https://joynture.com
Kin Spaces (NYC) http://kinspaces.com
Koi Creative Space (White Plains) https://www.koicreativespace.com

Made on State (Rochester, creative arts) http://madeonstate.com
Port 100 (Geneva) http://port100cowork.com
Primary (NYC) http://liveprimary.com
Projective (NYC) https://www.projective.co
Saratoga CoWorks (Saratoga Springs) http://www.saratogacoworks.com
Space 530 (NYC) https://www.space530.com
Spacious (NYC) https://www.spacious.com
Syracuse Coworks (Syracuse) http://www.syracusecoworks.com/
Teem (Harlem) https://www.teemcw.com
The Artist Coop (NYC performing artists) http://www.theartistco-op.com
The Austin Space (NYC) https://www.theaustinspace.com
The Farm (NYC) http://www.thefarmsoho.com
The New Work Project (Brooklyn) https://thenewworkproject.com
The Wing NYC women) https://www.the-wing.com
The Productive (NYC) http://theproductivenyc.com
Troy Innovation Garage (Troy) http://troyinnovationgarage.com
Urban Co-Works (Schenectady, incl nonprofits) https://www.urbancoworks.com/
Work Better (NYC) https://www.workbetter.us/
Workville (NYC) http://www.workvilleny
North Carolina
Advent Coworking (Charlotte) https://adventcoworking.com
American Underground (Durham) http://americanunderground.com
Biz Hub (Shelby) https://bizhubshelby.com
Carrboro Creative Coworking (Carrboro) http://www.carrborocoworking.com
Cocotiv (Charlotte) https://www.cocotiv.com
CoWork Five Points (Raleigh) http://coworkfivepoints.com
Cowork Uptown (Charlotte) http://www.coworkuptown.com
Coworking on Main (Burlington) http://coworkingonmain.com
Coworking Station (Holly Springs) http://www.coworkingstation.com
Fuquay Coworking (Fuquay-Varina) https://www.fuquaycoworking.com
Grow (Wilmington) https://www.growilm.com
HQ Greensboro (Greensboro) https://hqgreensboro.com
HQ Raleigh (Raleigh) http://hq.community/find-a-location/hq-raleigh/
Hygge (Charlotte) https://wearehygge.com
Industrious (Raleigh) https://www.industriousoffice.com/locations/raleigh/
Launch Chapel Hill (Chapel Hill) http://www.launchchapelhill.com
Loading Dock (Raleigh) https://www.loadingdockraleigh.com/#coworking
Mojo Coworking (Asheville) http://www.mojocoworking.com/en
Nido Durham (Durham) http://www.nidodurham.co

Revolutionary Coworking (Fayetteville) https://www.revolutionarycoworking.com
The Assembly (Raleigh) http://assemblydowntown.com
The Cooperative (Graham) http://www.coworkingstation.com
The Launch Factory (Charlotte) https://www.thelaunchfactory.com
The Nest (Raleigh) https://www.nestraleigh.com
Ohio
Canton Workspace (Canton) www.cantonworkspace.com/
Launch House http://launchhouse.com
Oregon
Collective Agency https://collectiveagency.co
Corvallis Foundry (Corvallis) https://www.corvallisfoundry.com/
Gaucho Collective (Klamath Falls) https://gauchocollective.com/
Hatch (Baker City) https://hatchthefuture.org/hatchlab-baker/
Indy Commons (Independence) http://indycommons.com/
Mind Works (Eugene) https://eugenemindworks.com/
Peloton Labs http://www.pelotonlabsportland.com/
Pennsylvania
Benjamin's Desk https://benjaminsdesk.com
Indy Hall http://www.indyhall.org
Texas
Utah
My Business Bar http://mybusinessbar.com
Work in Progress http://www.workinprogress.lv
Vermont
Virginia
804RVA http://www.804rva.com

Gangplank

http://gangplankhq.com
Play, Work or Dash http://www.playworkdash.com
Washington
Washington DC
Hera Hub

https://herahub.com
The Wing https://www.the-wing.com
Wisconsin
Matrix Coworking

http://www.matrixcoworking.com/
Virtual
1776

https://www.1776.vc
World-wide
Coworkstation https://coworkation.com
PLEASE NOTE: If you make contact with any of these organizations, it would be very kind if you would tell them that you came to know about them through venturefounders.com. Thank you.