Startup Founders Firepower
Entrepreneurs with Purpose Take a Stand
Startup Founders Firepower: In 2022, the United States has more guns than people, but only 4 in 10 adults live in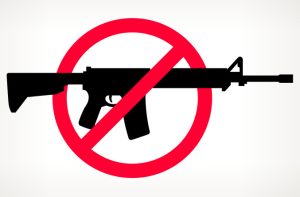 households with a gun, that's 49 million of America's 122 million households. The per capita gun ownership among civilians is 120.5 per 100 people, so each gun owner must have several weapons. There are about 434 million firearms in civilian possession, including about 20 million AR-15 and similar semi-automatics. That's a lot of firepower. In the first 21 weeks of 2022 America has already seen 213 mass shootings (NPR May 24).
Startup founders firepower is critical to their success. The firepower they have is in policies and influence. Founders set standards and expectations, both for their employees and those with whom they interact. They can explicitly forbid weapons on their premises provided that such a prohibition is clearly posted, though in many States staff and visitors may leave weapons locked in their vehicles in the business parking lot.
Startup Founders Firepower
The startup founder can be make her position on guns abundantly clear and her lead should be made evident to all stakeholders. Why should a business founder be concerned or declare antipathy to guns in civil society? Here's why:
a startup has influence considerably beyond its size—founders have an audience and impact greater than many in business;

we are all interdependent—we need each other to thrive in society, and not to be a threat;

the fear induced by easy access to firearms, especially semi-automatics, reduces trust and conviction of our interdependence;

business depends on peaceful and secure communities for smooth operation;

a progressive culture created in a startup will not only positively impact business performance, but ripple far beyond commercial interactions;

a statement on such a contentious issue makes the nature of the company completely clear to all with whom it interacts.
In 2019 Forbes reported that 68 percent of Americans believe it is appropriate for a corporation to take a position on gun safety, let alone those who want to work with a purpose driven startup. Startup founders firepower is particularly strong.

According to 2020 research by Zeno, 94% of global consumers said it is important that the companies they engage with have a strong purpose, and proved they will reward those who do, most consumers do not believe companies today have a clear and strong purpose.
Today (June 10, 2020), more than 200 business leaders, representing employees in all 50 states, sent a joint letter to the Senate, demanding "bold urgent action" to address gun violence in the wake of the killing of 19 children and two teachers at Robb Elementary School in Uvalde, Texas last month.
"Like you, we continue to bear witness to the toll of America's gun violence epidemic and its impact on our communities. Our country needs you to take bold urgent action to address our gun violence epidemic," the letter said.
The list included CEOs of well-known big companies employing more than 500 people. There was a demonstration of startup founders firepower. Sixty-four signatories were founders of companies with less than 500 employees. One of them, Lorraine Schuchart Founder and CEO of Prosper for Purpose LLC, says, "For us to prosper as a society, we have to be willing to take steps to protect the safety of our citizens. Gun violence is a public health crisis in America and it's time for us to use our influence as companies, as well as individuals, to help pass gun safety legislation." Lorraine's firm designs disruptive brand strategies for courageous change-makers.
Startups Change the World
Startups Change the World: Who would have thought that entrepreneurs would be the new activists? It was no surprise to me that the introduction to a sales quote from a roofing company I received recently started by saying, "We are a locally owned and operated business who cares deeply about our community, clients, partners and teammates…" and went on to describe several of their means of social impact.
It is vital for purpose driven startups to have coherence about their strategic imperatives. That includes all major social issues, including the emotional and heavily debated gun violence in the United States. There is every reason not to be shy in making bold statements and taking an active and responsible leadership role.