Variance Analysis
Identify Reasons for Differences Between Expected and Actual Amounts
The monthly activity of comparing either/both of forecast/budget numbers with actual outturn proved for me to be a really critical management task: it's all about data for performance improvement. In my business, I used it mainly for two things: comparing sales forecast and actual sales, and budgeted profit/loss and actual numbers.
We went further than comparing month by month, but also cumulative during the accounting year. We did this to guide us on actions that we could take to address the variance, if it was negative.
We did other analyses as needed. For example, we could look at the sales pipeline forecasts that sales people did to compare them with actuals to date, so that we could see how well we might catch up, if the actuals were running below forecasts upon which our numbers were based. Likewise we could apply the same principle to costs, or even individual budget headings.
This kind of juggling was very helpful in reaching good conclusions in management meetings. The table below is very simplistic, but it will give you an idea of how to approach variance analysis. Of course your own situation will dictate which the factors are critical.
You can add further sophistication if it's helpful. For example the percentage variance may be more revealing in your circumstance than raw numbers. You will probably want to do your variance analysis on a monthly comparative basis in order to see trends.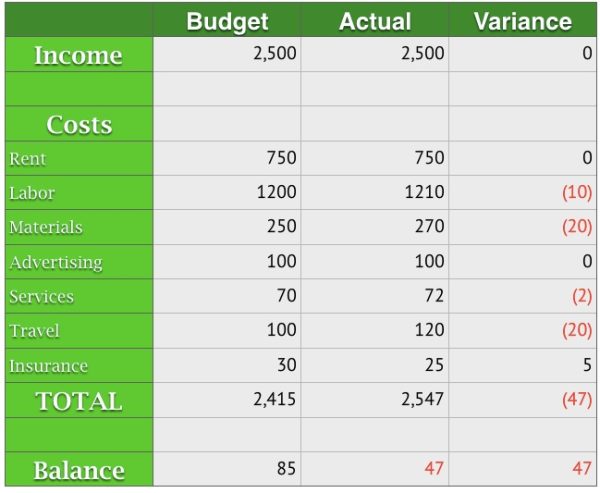 Do NOT just leave the variance analysis to bookkeepers and accountants, though they will be instrumental in producing the data and maybe even the charts. This is an essential management activity. Make sure that you analyze both the income and expenditure amounts: you can either raise the bridge or lower the water—or both.