Customer Lifetime Model
Ensure High Customer Value and Low Customer Aquisition Costs Over Time
Here is a graphic way that will help you relate the cost of customer acquisition and support to the value of a customer's business over the lifetime of doing business with you. In the model below you should aim to be in the lower right quadrant. Everyone will tell you that repeat customers cost less to acquire than new ones.
It may be stretching the term 'tool' to the matrix below, but the idea is for you to use the model to approach both product design and marketing, as well as your evolving customer support policy.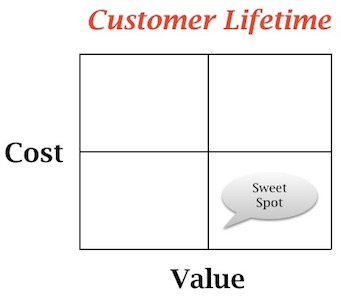 In other words you want to ensure that the customer stays with you for a long time with repeat orders and that the product you supply has low costs of being supported. It is another way of looking at customer satisfaction.
You want to avoid incurring the cost of constantly returning to sell to the same customer, at the same level of capturing a brand new one. At the same time you want to be selling something that does not require constant modification or repair.
This kind of analysis should lead you to supply a better quality product in the first place, and one that resells itself with minimal intervention from you. It is not just a matter of the razor and the razor blade.
My advice is to establish a close relationship with customers that does not require high expense per customer. An example of this might be to hold user conferences, or when the customer is buying one product it is one of a range that supplies several slightly different needs.
Think too, about the value of customer referrals. The networking value of them is a big multiplier. But don't seek the referrals in a blanket fashion. The efforts have to be tailored to suit each particular client. I certainly found that in the 11 years that I ran my main business, the social connection paid enormous dividends and was a pleasure through the development of positive relationships. Now, I have to admit that I was in the B2B business; if you are selling to consumers it's not so easy. However, you can segment your buyers, so that your customer relations are not based on one-size fits all.
In the consumer area, you can of course look at data that will have more data point than in B2B. You can look at numbers like, the percentage of customers who order each each year, the annual spend of each customer, or the amount spent. Don't forget at the same time to assess the direct and indirect costs per year of servicing those customers.