Purpose and Profit Framework
Essentials for Sustainable Startup
Purpose and Profit Framework: Today, it is finally safe to say that collective business wisdom accords purpose and profit virtually the same weight of importance in planning and leading a sustainable new enterprise. It is particularly true for startups, but it is also progressively true for established major corporations.
Every new venture is particular to itself and there is no one size-fits-all way to define its own purpose and profit goals. Neither is there only one singular way to conduct a process to consider what they both will be.
At worst, the founder will be the sole arbiter who makes the determination. Even solopreneurs would be well advised to seek the inputs of people around him or her—people whose opinions, experience, and skills are valued.
The Purpose and Profit Framework set out below is generic, but it attempts to define a way to go about considering both the two vital subjects together.
Purpose and Profit Framework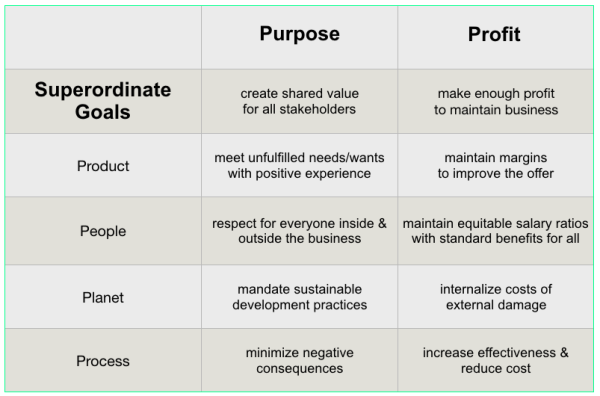 Processing a Purpose and Profit Framework
The way that the new business goes about confirming why it does what it aims to do and be is the kernel of the planning process. Before even setting out down the road, I would suggest the founder and senior colleagues (or those offering guidance) should read a book called Good Strategy, Bad Strategy by Richard Rumelt, before starting the process. For Rumelt, the kernel of a good strategy involves:
a diagnosis that defines or explains the nature of the challenge. A good diagnosis simplifies the often overwhelming complexity of reality by identifying certain aspects the situation as critical.
a guiding policy for dealing with the challenge. This an overall approach chosen to cope with or overcome the obstacles identified in the diagnosis.
a set of coherent actions that are designed to carry out the guiding policy. These are steps that are coordinated with one another to work together in accomplishing the guiding policy.
I suggest that the top team and any advisers prepare for an offsite get together. What the leader, the founder and co-founder, if there is one, need to do is to use the framework above to consider the issues and write a short paper or presentation with their own conclusions. They should circulate it before the event and invite participants to ponder the document before meeting. Participants should also be invited to bring any documents or references that might be useful input to the meeting.
A facilitator could be used for the meeting. The aim of the meeting should be to come up with a refined version and be prepared to circulate it to others for discussion, may all members of staff that are hired to that point. This outline is deliberately vague, but is designed to give a limited framework and starting point, to avoid the work being 'all over the place'. The object of the exercise to to get the key players on the same page, even probably before they knuckle down to working on a business plan to ensure they are aiming at creating shared value.
More Help on Why to Start with Why?
Take a look at Startup Statements of Intent, which will take you a bit deeper into the subject. Indeed among the Management Tools on Venture Founders, you will find a lot of related help among the many tools that I have used to good effect in the process of getting clarity about Why the business exists and how to reach the goals we establish.
According to a 2016 study Purpose Powered Success, by the recruitment firm, Korn Ferry, Purpose-driven organizations are thriving on many levels. They are producing superior financial results, increased employee engagement, customer loyalty, and societal benefits from healthful products to inclusive communities. These positive outcomes have led other organizations to emulate them, pushing purpose into consideration for the corporate mainstream. For you to 'be in the swim', use the Purpose and Profit Framework to get you thinking.
Start with Why: How Great Leaders Inspire Everyone to Take Action by Simon Sinek is a book you should definitely read. Or, better spend a bit less that 18 minutes listening to to Simon Sinek's TED Talk. Why? Why because it will inspire YOU to start with WHY?