Startup Citizenship
Work with Humanity
Startup Citizenship: Entrepreneurs have plenty of concerns other than the social impact of their new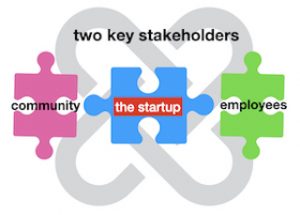 venture. From Day One of the business, on the other hand, their new business will particularly impact two stakeholders: their employees and immediate communities, whether positive or negative, or either noticed or ignored.
The trouble is, founders are strategically ill-prepared to deal with those relationships. However these two stakeholders are often in a position to make or break the fledgeling enterprise.
The early stages in the life of the business, is however, the best time to pay attention to have a positive social impact and avoid blundering into situations that can threaten the life of the business.
Example of Startup Citizenship
My startup partner suggested that once we became profitable (we did in Year Three), we should give ten per cent of pre-tax profits to the community. Back in 1984, I was hesitant about this form of startup citizenship, but it turned out well. From our fourth year on, that's exactly what we did, as well as paying for up to 7 days paid volunteering a year for all members of staff. Our CPA thought we'd lost our marbles. However, it turned out not only to be a 'good thing to do', but also the return on investment was very high.
The motivation to introduce these startup citizenship policies were based on altruism, not considerations of financial performance. Altruism though, as it turned out, brought many benefits. We found that people we recruited were attracted to the culture that the policy it represented. They stayed in the company and were highly motivated by the atmosphere that the policy engendered. Our reputation as citizen of the local community, was also positively beneficial to the company as it grew. You can read a bit more about our experience here.
It is difficult to find out the extent to which startups indulge in corporate citizenship in the form of either charitable donations or volunteer time off (VTO). Anecdotal evidence suggests that today's startups tend to combine a focus on both profits and purpose, including a commitment to employees and the community. Hence, they will also tend towards charitable donations and volunteer time off.
Citizenship Is Vital to Stakeholder Capitalism
Stakeholder capitalism has the purpose of serving the long-term interests of those upon whom it depends for its success—not just the interests of shareholders, which tend to be much more short-term. Stakeholder capitalism is a much maligned concept, especially by those who consider that movements such as stakeholder capitalism are built on ultra-liberal, business-negative narratives.
However, there is a growing body of research that demonstrates the fact that businesses committed to stakeholder capitalism "outperformed the rest in earnings, revenue, investment, and job growth," according to McKinsey. Indeed, profitability in necessary, but not sufficient.
One of the stakeholders upon which a business depends for its sustainable success, is any community in which it operates, so business citizenship covers moral and ethical responsibility to the citizens of those communities, including people who are employees or may join the company.
According to a 2017 Glassdoor survey, giving back is a priority for employees in the US: 75 per cent expect their employer to support those in need, either with donations or volunteer efforts.
Charitable Donations: In the 21st century US, the average of corporate charity donations amounts to 1 per cent of pre-tax profits and though the amount varies year by year, to total percentage has not changed significantly over the 40 years to 2019.
Walmart, for example, gives about 1.3%, though Target gives nearly three times as much as a percentage of pre-tax profits. It is difficult to estimate the absolute total in dollar terms, since many companies will also match personal donations by employees.
Volunteer Time Off: Volunteer time off is a form of paid leave (though sometimes unpaid), where employees receive their regular compensation for hours spent in service to an approved charitable or community organization.
As of 2018, nearly one in four companies in the United States were using VTO to their advantage. The number of them is rising as they come to appreciate the benefits.
If you want to go further into stakeholder capitalism, and you don't know how to begin grappling with the subject for your own startup, take a look at the Stakeholder Strategy Evaluation Tool.
Management of Startup Citizenship: Charitable Donations and Volunteer Hours
One of the issues that we discovered about our startup citizenship, over a quarter of a century ago, was that it was fine to just manifest startup citizenship itself, but it became necessary to formally manage the process. So, we established:
•   a process for charitable giving: all employees could propose suggestions, agree & monitor progress;
•   a named company fund with a local community foundation to distribute funds;
•   a new line on staff timesheets to monitor employee volunteer time;
•   that volunteers report their experiences to colleagues;
•   that the company's named fund at the foundation produced an annual report.
Challenges to Establish and Manage Policies & Programs​
Even when there is goodwill by entrepreneurs or corporate managers, establishing and running citizenship programs is tough. If an entrepreneur is interested in introducing a policy on citizenship and does not know where to start, a good place might be the organization Startups Give Back, who offer a mentoring service for startups that want to make a profit and a difference.
The firm Encast is also potential partner in the process. This startup consulting firm and designer of digital apps, such as Encast Social ImpactTM, is a company based in Austin, Texas. It aims to "support great cultures by fostering relationships through common values." It works both in the interests of company clients and their employees. The app manages donations for client companies and enables individual portable accounts for employees that stays with them wherever they go.
The company's founder, Leo Ramirez, observes that millennials (born 1981-2001), who form about half the American workforce "seek purpose in their job as well as social impact." If you want to learn more, contact him by email, and tell him I sent you. I'm sure he will gladly help. Leo says, "Build a company people love."
There is also Benevity is a company that offers employee engagement software and also helps nonprofits through offering the Benevity Causes Portal. There are very useful nonprofits, too. One example is the Giveback Foundation that offers a workplace giving platform and helps employers set one up. Volunteer Match is another; it offers exactly as the name implies: it offers a corporate volunteer SaaS program. United Way can help match you with volunteers in your locality, too.